Hi all
I've just found this community and it's great to see all the pictures of different rooms that people have posted. I'm in the process of buying my first house and I want to redecorate most of the rooms as it's all either scruffy or just not to my taste. I don't have much money to do all this, and I have quite a few ideas but I've never really decorated a room myself so I'd like to bounce some ideas around and see what people think. I'd be really grateful for any suggestions or comments!


This is the living room. It's at the back of the house and doesn't get much light, but it's quite a big room (12 feet 7 x 15 feet) and has the stairs going up one side. There are also French doors to the little garden.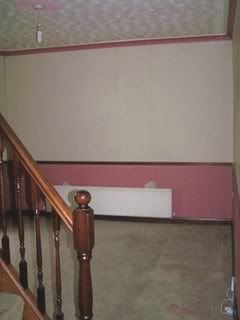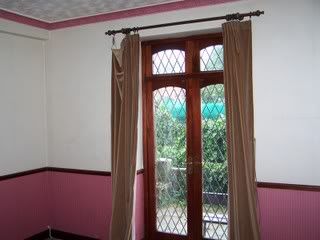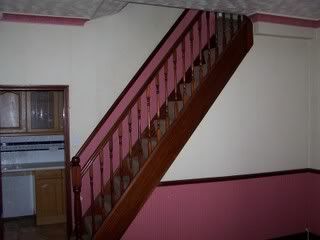 The colours I have in mind are deep red, dark blue and pale golden yellow - the colour scheme has come from some really pretty Moroccan cushion covers I bought in Spain. I want red to be the main colour, but I'm not sure if it might be a bit overpowering if I paint all of the walls that colour. My sofas and curtains are dark blue, and I'm either going to have a wood floor if the boards are in good enough condition, or get a dark blue carpet (the carpet there now is very stained and worn). I was thinking about painting the ceiling a sandy yellow colour. Thoughts?

Dining room
I'm REALLY stuck for ideas for this room. It's about 12 x 12 feet and is the first room you walk into through the front door, so I want it to make an impression! It has this great red brick fireplace so whatever I do has to go with this.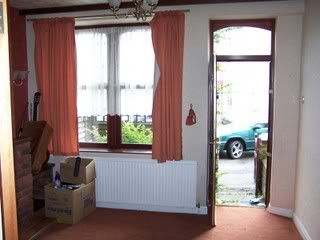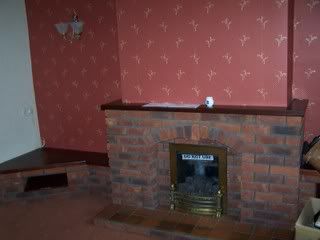 I'm going to take up the carpet and have a wooden floor, but I'm not sure what colours to do the walls. The wallpaper by the fireplace is horrid so that has to go, but the rest of the walls are fairly newly papered in a creamy colour. I'm normally not at all a cream-walls sort of person, but it seems like such a waste to strip all the paper off when it's in such good condition! My table & chairs are dark wood, and all the wood in the room (including fantastic beams on the ceiling!) is also dark. I was thinking about going for a rustic sort of look, which I think would go well with the beams and fireplace - maybe a medium sage green and creamy colour? I normally like fairly bright, deep colours, but I'm not convinced it'd suit this room. Any ideas?

OK, the last room I'm having trouble with is my bedroom. It's very newly decorated in purple - my problem is that while I love purple, I've had a purple room for years and I'm kind of ready for a change! But it seems like a waste of money to redecorate it totally, since it's in such good condition.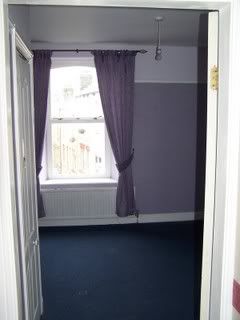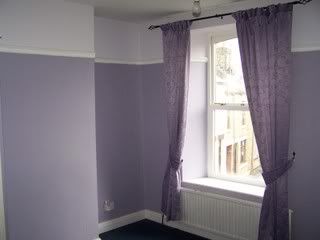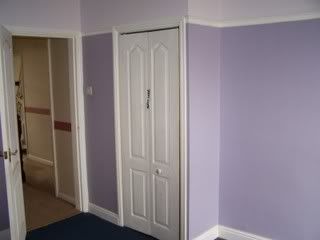 I was thinking of maybe leaving the walls light purple, and painting the ceiling and doors a dark blue, just to change it a bit (I quite like the idea of doing the ceiling like the night sky with small silver stars painted on it). My style for my room is quite ethnic, I have a lot of Indian fabric in dark blues and purples, so I could put some of that up at the window and maybe some kind of canopy over the bed.

Thank you so much for any ideas people can give me! I have vague ideas for what I want, but I'm not certain how to make it all work...